Come & Stay With Us
Pick any of our hotel rooms to experience the delightful decor, complemented with modern amenities for a comfortable stay..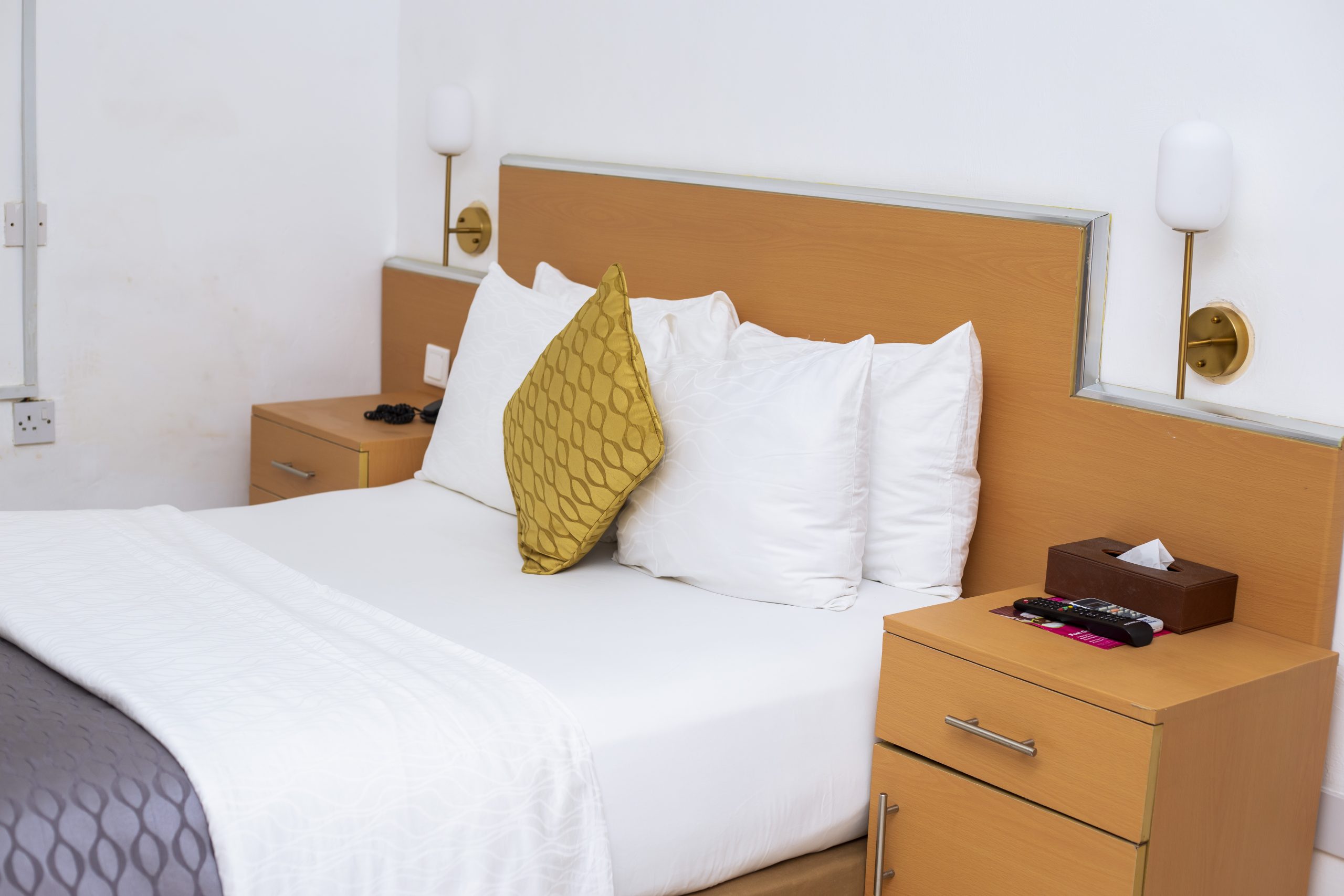 Standard Single Room
Luxury must be comfortable, otherwise, it is not luxury."- Coco Chanel Each of our standard single rooms comes fully furnished with twin beds, a comfortable duvet, and a mattress. We are therefore confident that you will have a wonderful night's sleep. Also included in each room is a wardrobe with considerable space as well as a work desk to allow you to combine business with pleasure. Another feature of our single rooms is an LCD flat-screen television with a satellite linkage which airs great programmes. Whether you are into movies, sports or news we are sure you can find something that will interest you. And with other amenities such as state-of-the-art air-conditioning, a telephone for great communication to all destinations, a fridge, and a high-speed Wi-Fi internet connection, we can guarantee your stay in any of our single rooms will be a memorable one.
Standard Double Room
"Luxury is attention to detail, originality, exclusivity and above all quality." – Angelo Bonati Each standard double room at Airside Hotel boasts of comfortable 2 beds and modern architecture designed to provide a pleasurable experience for every one of our guests. Features of these rooms include high speed Wi-Fi internet access to allow you to surf the internet at super speed, check your email effortlessly and watch videos without any hiccups. We've also included a telephone in each room to allow you to make business calls and reach out to loved ones afar. For all you sports, movie and news lovers, we also have a state-of-the art LCD flat-screen Television with satellite connectivity for your viewing pleasure. Our rooms are also fitted with stunning interior decor, modern ceilings and ample space for clothing, bags, and suitcase.
Executive Double Room
"I have simple taste, only the best." – Oscar Wilde Modern design and distinctive furnishing combine to create this welcoming oasis of calm. With a comfortable twin bed, our Executive Double rooms features limestone tiling, sleek bathrooms equipped with shower, towels and a water closet. Our beds come with linen sheets to ensure you sleep soundly whether at night or during the day. Our Executive Double room also features a Flat-screen Television with a satellite linkage which airs great programmes. To enable you combine business with pleasure, we also provide high speed Wi-Fi internet access. This makes working away from office when on a business trip very convenient.
Suite
"Elegance is timeless." – Habeeb Akande For that relaxing experience, choose to spoil yourself in our luxurious Suite here at Airside Hotel. The serene environment offers you the chance to relax and unwind; it's the perfect home away from home. Our Suite offers you full comfort and technology in a contemporary style with a spacious bedroom space, unique decor, modern ceilings, and adequate provision for clothing, bags, and suitcases. Our suite features high-speed Wi-fi internet access with which you can browse the internet at super speeds, check on work email or watch videos online. We believe in the saying that 'elegance is timeless and that's why we only provide you with the best. Staying with us at Airside is more than staying in a hotel; it's about giving you the experience of a lifetime.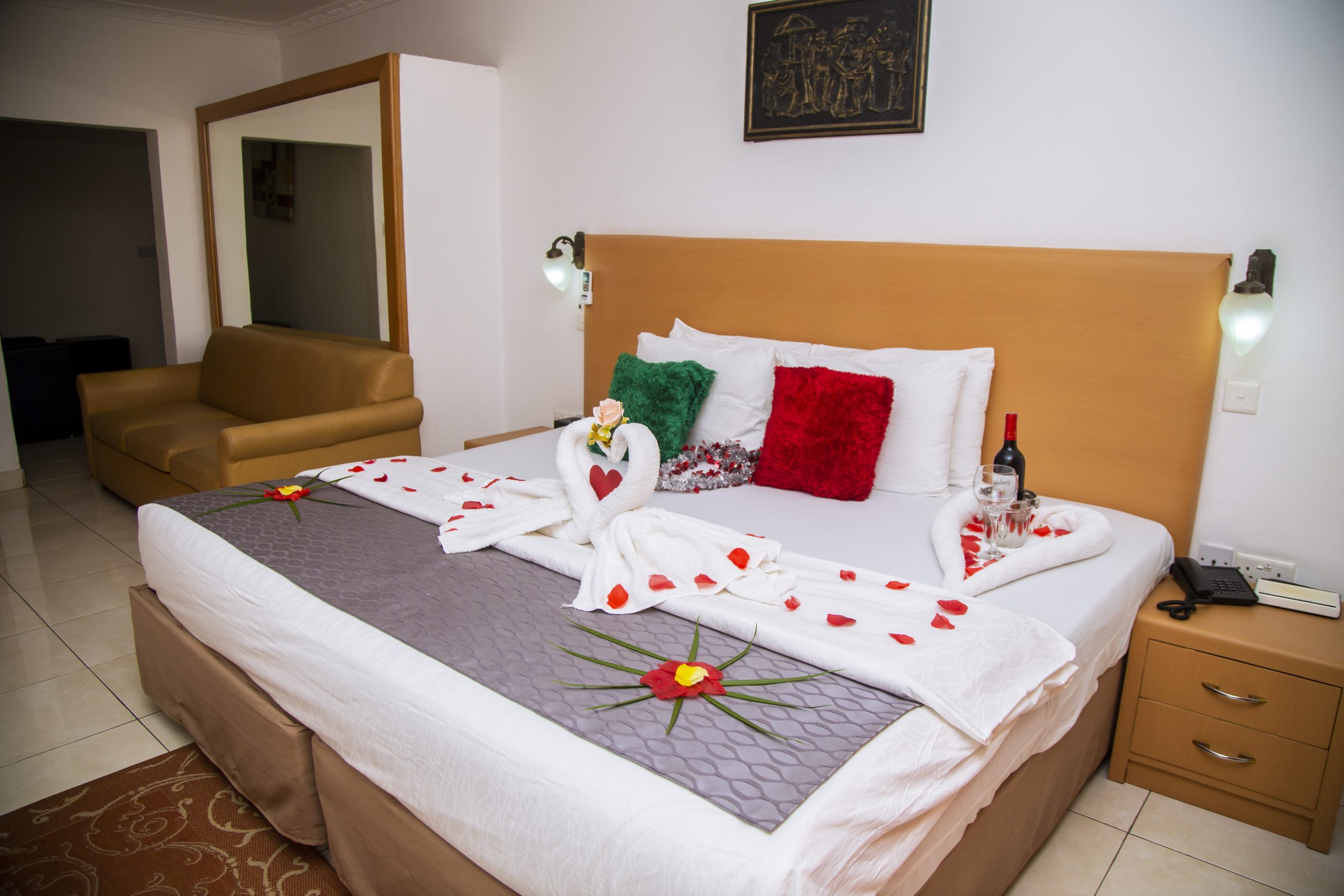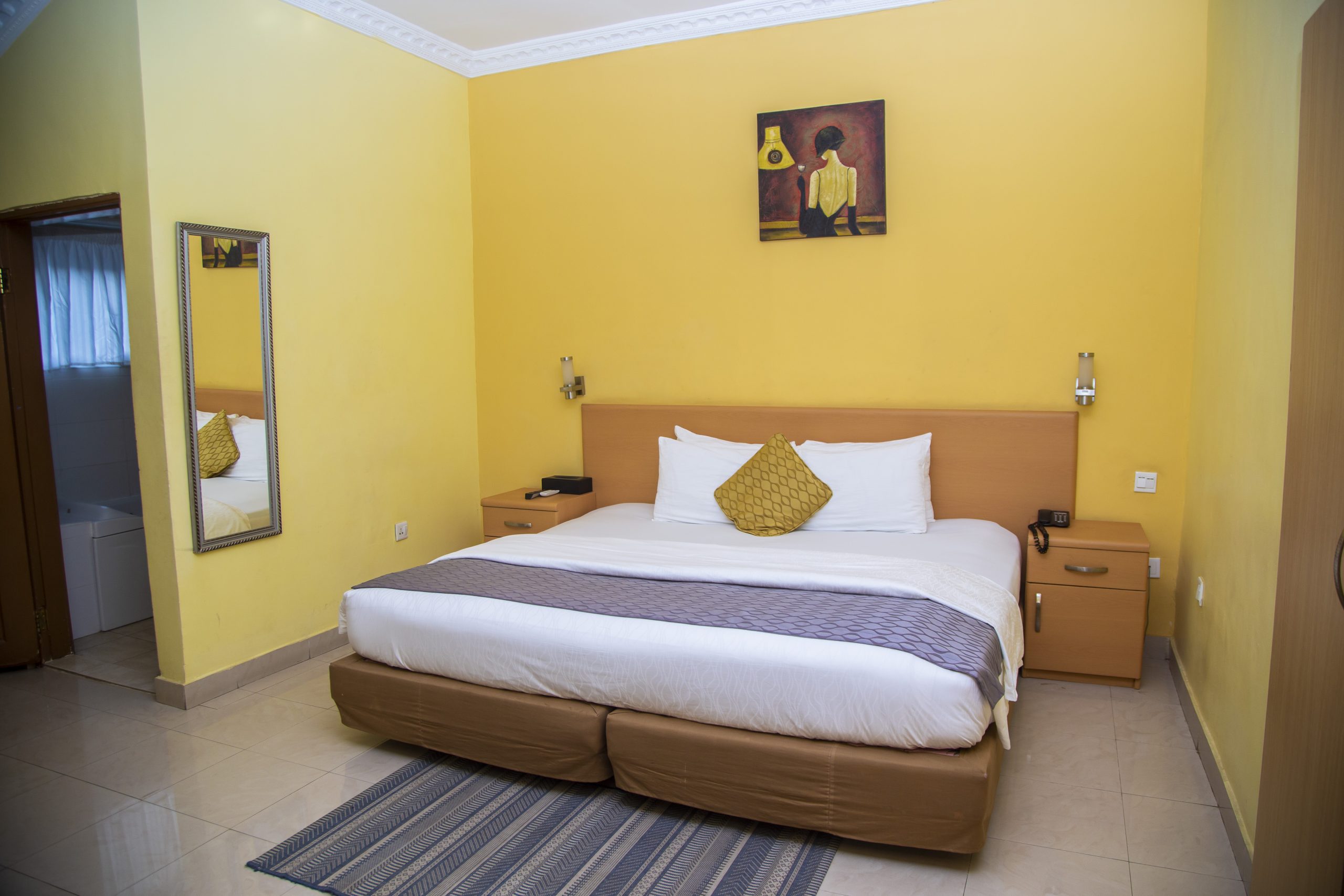 Two Bedroom Apartment
"Nothing is too beautiful, nothing is too expensive" – Ettore Bugatti We provide elegantly furnished, spacious Two-bed room Apartment that are perfectly designed to suit both small and large families. To get away from the worries of everyday life, take a vacation with the whole family and enjoy an unforgettable experience in our Two-bed room Apartment. Our kids-friendly Two-bed room Apartment boasts of two double beds for adults and children. The apartment is tastefully decorated with unique decor items from all over the world with an open, fully-equipped kitchen for cooking and eating, a fridge and modern air conditioning. We also provide high speed Wi-fi internet access, telephone for easy communication, sheets and towels. The bedroom space comes with plush floors, high ceilings and plenty of space for clothing, bags, and suitcases
Rate your Booking Experience
4.3 out of 5 stars (based on 4 reviews)
Plan an Unforgettable Experience in Accra Today!
We can help you fit your stay and experience within your allotted budget.